Bike projects
Here you can put your rebuilded 50cc bike.

Email me about your rebuilded bike: info@50cc-motorcycles.com
---
Ozbike 50cc GP Racer

Not a rebuilt bike, but a bike built from scratch. I don't know much about this bike yet, but it is mostly made up of Metrakit special parts.
| | |
| --- | --- |
| Engine: | 2 Stroke, single cilinder reed valve |
| Displacement: | 50, 72 or 78 cc's |
| Cooling | Liquid |
| Tires: | Rear 120/80-12 Front 100/90-12 |
| Weight: | 120 lbs. |
| Transmission | 6 speed gearbox |
| Brakes | Hyd Disk |
| Body | Fiberglass |

More Info
---
Honda NR 50
This bike has been build up out of an Honda NS-1, there has been a replicated NR 750(oval piston) fairing on it and it has got seat-pipes just like the NR 750.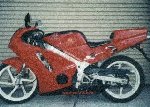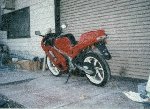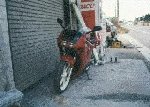 ---
Honda MT/TS
I can't remember who send me this bike, but I do remember that it's been build up out of a Honda MT and a Suzuki TS, and has MB-5 wheels.
If you know the owner or are the owner please email me with more details.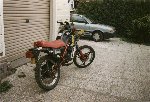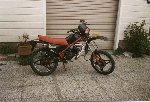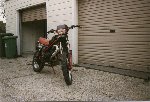 ---
Honda NSR
This is a Dutch 50cc racer, it's been build out of a Honda RS 125 frame, swingarm, tank and fairing, NSR 50 (AC08) wheels, the brake I think is from an Honda CBR 600, the engine comes from an Honda NSR 50 (AC08), it's got a Keihin 20mm carburetor, the engine has been under massive tuning, the speed of this type of racer is about 160 km/h and has about 15HP.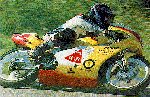 ---